2022 – Mariner 4 : Nov. 5, 1964 Mariner 4 Launch: Nov. 28, 1964 Mariner 3 and 4 were identical spacecraft designed to carry out the first flybys of Mars. Mariner 3 was launched on November 5, 1964, but the shroud encasing the spacecraft atop its rocket failed to open properly, and Mariner 3 did not get to Mars. Three weeks later, on November 28, 1964, Mariner 4 was launched successfully on an eight-month voyage to the red planet.
2023 –  Viking 1 Launch: Aug. 20, 1975; Arrival: Jun. 19, 1976 Viking 2 Launch: Sept. 9, 1975; Arrival: Aug. 7, 1976 NASA's Viking Project found a place in history when it became the first mission to land a spacecraft safely on the surface of another planet. Two identical spacecraft, each consisting of a lander and an orbiter, were built. Each orbiter-lander pair flew together and entered Mars orbit; the landers then separated and descended to the planet's surface.
2024 – Mars Pathfinder Launch: Dec. 4, 1996 Mars Pathfinder, consisting of a lander and the Sojourner rover, returned an unprecedented amount of data as they explored an ancient flood plain in Mars' northern hemisphere known as Ares Vallis. Mars Pathfinder – USA Lander & Surface Rover – 870 kg – (December 1996)
2025 – Perseverance Rover – Mars 2020 is a Mars rover mission forming part of NASA's Mars Exploration Program that includes the rover Perseverance and the small robotic helicopter Ingenuity. Launch date: July 30, 2020
LOYALTY MEDALS – 3 & 4 YEAR MEDALS
STARSHIP CHALLENGE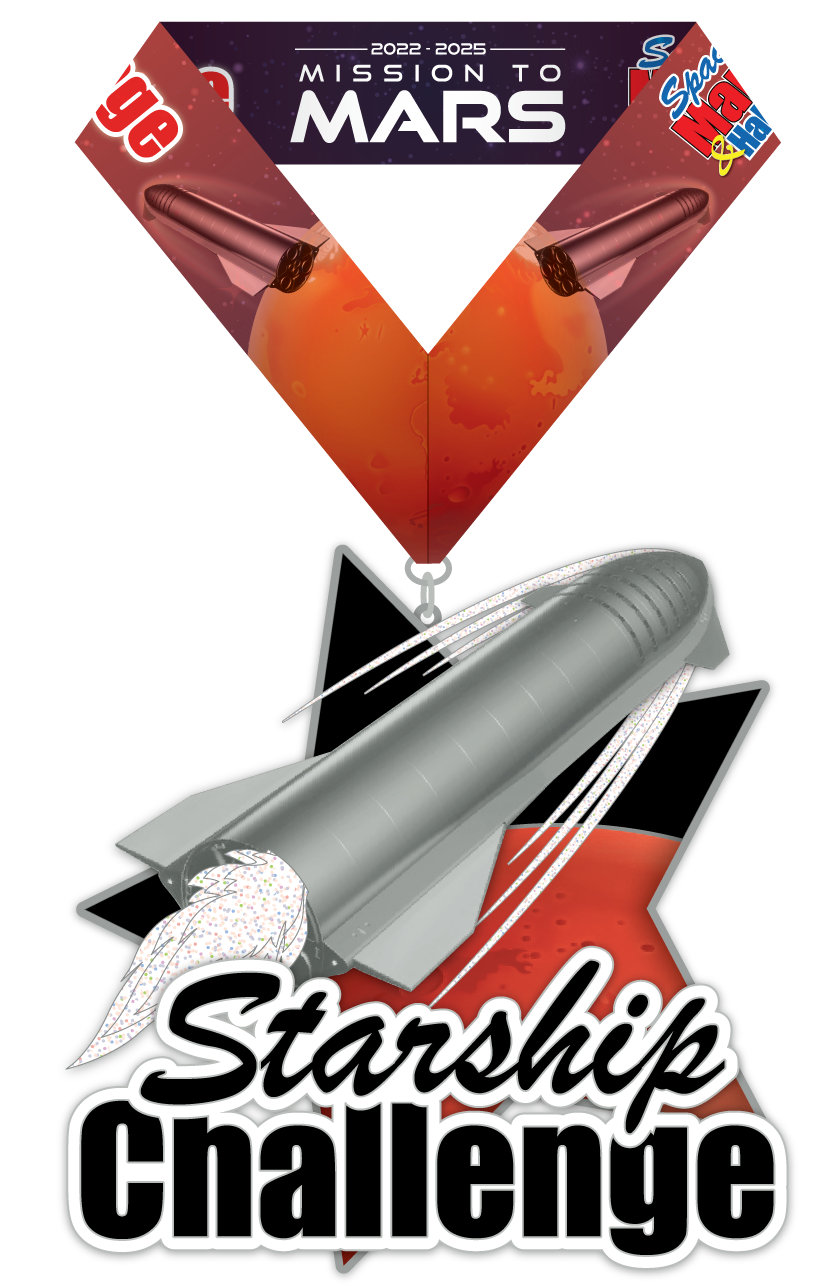 SpaceX's Starship spacecraft and Super Heavy rocket (collectively referred to as Starship) represent a fully reusable transportation system designed to carry both crew and cargo to Earth orbit, the Moon, Mars and beyond. Starship will be the world's most powerful launch vehicle ever developed, with the ability to carry in excess of 100 metric tonnes to Earth orbit.
MISSION TO MARS CHALLENGE
THE RED PLANET AND CURIOSITY
YOU HAVE ARRIVED ON THE RED PLANET
REGISTRATION OPENS FEB 14, 2022- 9 AM FOR LOYALTY ELIGIBLE PARTICIPANTS ONLY
(Participants that completed 3 or 4 year Big Bang Series: The Next Generation Series)
REGISTRATION OPENS FEB 15, 2022 – 9 AM EST FOR EVERYONE!
Full Marathon – Start: 6:00 am
Capacity: 1,500 registrants
Course Time Limit: 7 hours
North Half Marathon – Start: 6:00 am
Capacity: 2,500 registrants
Faster than the speed of light: Under 4:00 expected finishing time
South Half Marathon – Start: 6:20 am
Capacity: 3,500 registrants
Pluto's Orbit: No time requirement / 6:40 hour time limit
---