Marathon Relay (2 Person Teams each completing a half marathon)
New for 2017!  We will be offering a full marathon relay starting at 7:15 am. This will be capped at 1500 registrants (750 teams of 2) and you must be able to run a half marathon in 3 hours or less to register. The first relay participant will complete the first half of the marathon course (north of Rt. 520) and the second relay participant will complete the 2nd half of the marathon course (half marathon course south of Rt. 520).
2-person relay starting at 7:15 am
Each person will run a half marathon (13.1 miles)
The second partner will wait for their partner to finish at relay exchange to run the south course
Three categories: co-ed, male & female (awards for top 3 teams in each category)
(Each team member must register for the relay)
Directions regarding the Marathon Relay:
Relay Team Member 1 will start at 7:15 am in the Start Corral on Brevard Avenue with the 'Relay Bracelet' (provided at packet pickup or at Gear Check on race morning)  Team member # 1 will run the 1st half of the full marathon course.  Upon finishing the first half, you will cross the HALF MARATHON SPLIT point (on Brevard Avenue – same location as the START).  Once you cross the half marathon split, you will continue towards the Relay Tent to hand off your bracelet to team member # 2.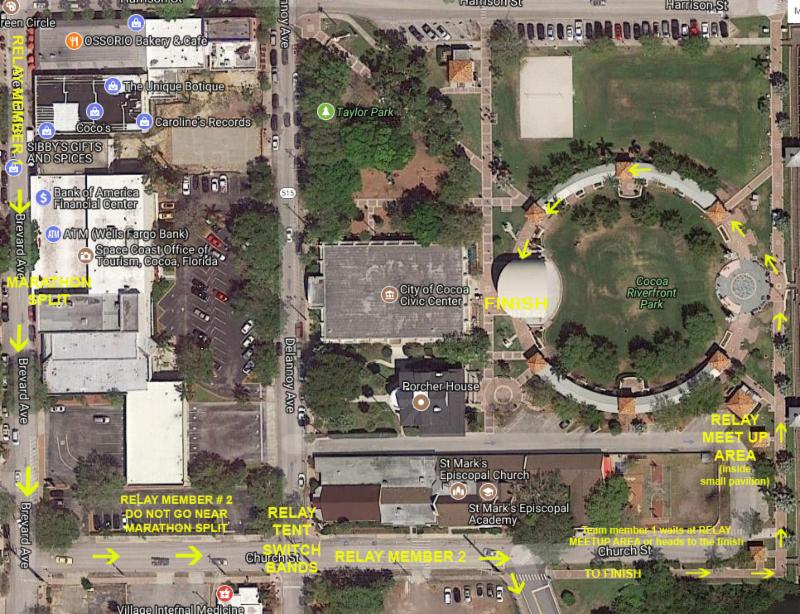 Relay Team Member 2 will be waiting at the Marathon Relay Station at the corner of Church Street and Delannoy Avenue at the Relay Tent.
Relay Team Member 1 will hand off the bracelet to Relay Team Member 2.  Team Member 2 should NOT back up, cross or approach the HALF MARATHON SPLIT mats/clocks on Brevard Avenue as this will cause problems with your relay results.
Team Member 1 will have their d-tag removed (timing tag on your shoe) and then continue to the end of Church Street towards the river where you can come through the Finish Line.
If you are Team Member 1 and want to meet up with your Team Member 2 to cross into the finish line together, you may do so. We will have a Relay Meetup Point where you can wait for Team Member 2 as they are coming into the finish (see picture above)